This is the first chapter of the series "Carry-On Toiletries", for those of us who accept the challenge of traveling with just a carry-on, along with all the TSA requirements for taking toiletries. Stay tuned for the next several weeks for more installments of this series! 
I've had hair that ends at my ears and hair that ends at my waist, and every length in between. No matter how long my hair is, it has a tendency to cause problems in travel. At times it's been so frustrating and unmanageable, the thought of shaving it all off entered my mind! Maybe you feel the same way too. But before you grab a razor, keep reading for a few tips on how to care for your marvelous hair, no matter where you are.
Flat irons, curlers, and other large hair styling items sacrifice way too much space in a carry-on. It's hard to sometimes even fit a hairbrush! I will usually pack a foldable brush or a flat, thin comb. But even if you style your hair perfectly each morning, the environmental factors of your destination, such as heat, humidity, rain, and even thunderstorms, can effect how your hair turns out. Flyaways, frizz, and uneven curls are far too common in travel.
Of course, the easiest solution is to hide it! A ponytail holder takes up zero space inside your carry-on. You can even slip it around your wrist for easy access! If I'm going somewhere that I know I'll need sun protection, I'll take a hat with a brim. I prefer bucket hats to ball caps because bucket hats are soft and can be crunched up to fit anywhere in your bag. Earlier this year, while attending a conference, I was given a sample product that changed the way I look when I travel. It was a buff, or at least a knockoff one called a Tubie. I can wear it as a headband, and if my hair gets too unruly, I can extend it to cover all my hair. If my hair happens to be behaving, I can keep the Tubie around my neck or on my wrist to absorb sweat.
Hats and tubies are great to hide problem hair, but what if you want to show it off? Maybe you want to show off a new hairstyle, or your outfit doesn't match any of your headwear. For a long time, I didn't know how to deal with this on the road. With TSA's 3.1 ounce rule, you can't really take enough hair product with you. For years, if I was traveling with a group, I might bum some product off someone who brought checked luggage. If I was by myself, I really had no choice but to hide my hair. But just a few weeks ago, I discovered a new product that offers a great solution.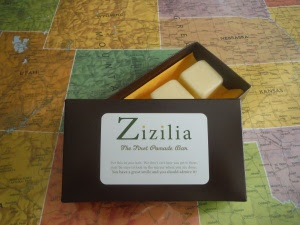 A new company called Zizilia created "The First Pomade Bar". I didn't even know what pomade was before finding out about this product, but it is a hair styling product that does a really good job at keeping your hair in place. Zizilia makes them in solid bars, which means one less liquid that you have to take in your travels! The bar alone makes this pomade travel-friendly, but Zizilia went one step further and made them travel-sized! These cute little squares of pomade are great for plopping in your toiletry bag and taking anywhere. The reason this is a solid is because it's made with beeswax along with other natural and organic ingredients, and I definitely prefer to not carry around unknown chemicals! This is the first Zizilia product I've tried, but they have dozens of other products that I'm excited to try out.
How do you care for your hair in your travels? 
A big thank-you goes to the small business Zizilia for introducing to me and sending some great products!