Most of my travels are not simply vacations. On the contrary, I like to use my travel experience as a way to give back to the communities I visit. It all started with a mission trip to Cieneguilla, Peru, back in 2007.
My high school youth group went to the Posada de Amor orphanage and their neighboring Eliel Christian School. We did construction and painting projects, taught English, and spent quality time with the children. I had such a great experience, I returned two years later.
In 2010, I heard about another church that owned a mission in Carmen Serdan, Mexico. They offered trips for people to help out with the handicapped orphans they care for. I went along, and although we didn't see even one touristy thing, I had a great time!
Even though I haven't gone on another "mission trip" since then, I have incorporated volunteering into elements of my travels. Ever since I was old enough to help, I've loved volunteering at camps offered by the Girl Scouts and churches, like this time at Camp Tadmor near Lebanon, Oregon.
When I went to Nashville in 2012, I realized that was the headquarters of a nonprofit magazine that I write for. Before going, I e-mailed the editor asking if we could meet. She responded, saying I was coming during important planning days for the magazine, and I was invited to help with this. I was glad to help out!
This past summer in Niagara Falls, I learned about a ministry called the Magdalene Project, which helps homeless people, prostitutes, and low-income families. I called up the director and asked how I could help. After asking me about my skills and passions, she offered to let me help chaperone a trip with their kids' club.
After all this volunteering in my travels (the buzzword for this is "voluntourism"), you'd think I would encourage everyone to go out and try to volunteer on all their travels, right? Well, sort of. I've learned a lot since my first trip to Peru, and I'm now more selective about how I voluntour.
I think the most important rule is this: if you wouldn't volunteer at home, you shouldn't volunteer while you travel. Hapless volunteering is a terrible way to try to make your trip meaningful. If you want to volunteer while you travel, find a local charity to work with before your trip. This will help you gain experience and make sure you're cut out for the job. Don't want to help near your home? I hate to break this to you, but this indicates that you shouldn't volunteer afar either. If you want to help your destination's community, you can still make a difference by purchasing from family-owned shops, staying at local accommodations, or sending donations to worthy causes. You must be dedicated to give your time.
I've also learned that just because an opportunity exists doesn't mean I should go for it. In fact, this can potentially hurt their community! For example, our Peru trip leader told us that two of our tasks were to play with kids and do construction. The problem was, I never picked up a power tool before! I should have at least learned the basics before going. Better yet, the money spent on my plane ticket could pay local experienced construction workers to do the work. Then, instead of just helping the orphanage and school, we could help local impoverished workers as well!
Now, while I'm no construction expert, I do know how to play with kids. But was that beneficial? The kids did have fun playing with us, but I know it hurt everyone emotionally when we left. Volunteering long-term, or at least keeping in touch through letters and frequent visits, would be a less harmful way to form relationships.
Looking back, I think the one thing we did that was of real value was teach English. This is a sought-after skill in business, thus breaking the cycle of poverty. Since we were the only native English speakers in that area, we were best suited in this department.
Contrast this to my recent voluntourism experiences. Before I went to Niagara Falls, I talked with the ministry director and offered to help in any way needed. (I also worded it so she wouldn't feel obligated to place me if it was a hassle to get me involved.) She did what all charity leaders should do: asked questions! She wanted to know about my past volunteer experience, profession, church involvement, and even my hobbies! With that information, she could find the role where I would be most effective, which happened to be chaperoning a field trip.
Same thing goes with my experience in Nashville. If I hadn't spent several years writing for Devozine, I would have been more of a burden than a blessing. In addition, I didn't waste money by making special volunteer trips. I'd already planned extended travel in these places, so I was able to maximize my buying power by staying in locally-owned small hostels, buying from local businesses, and spending time learning about the actual culture and needs of the area.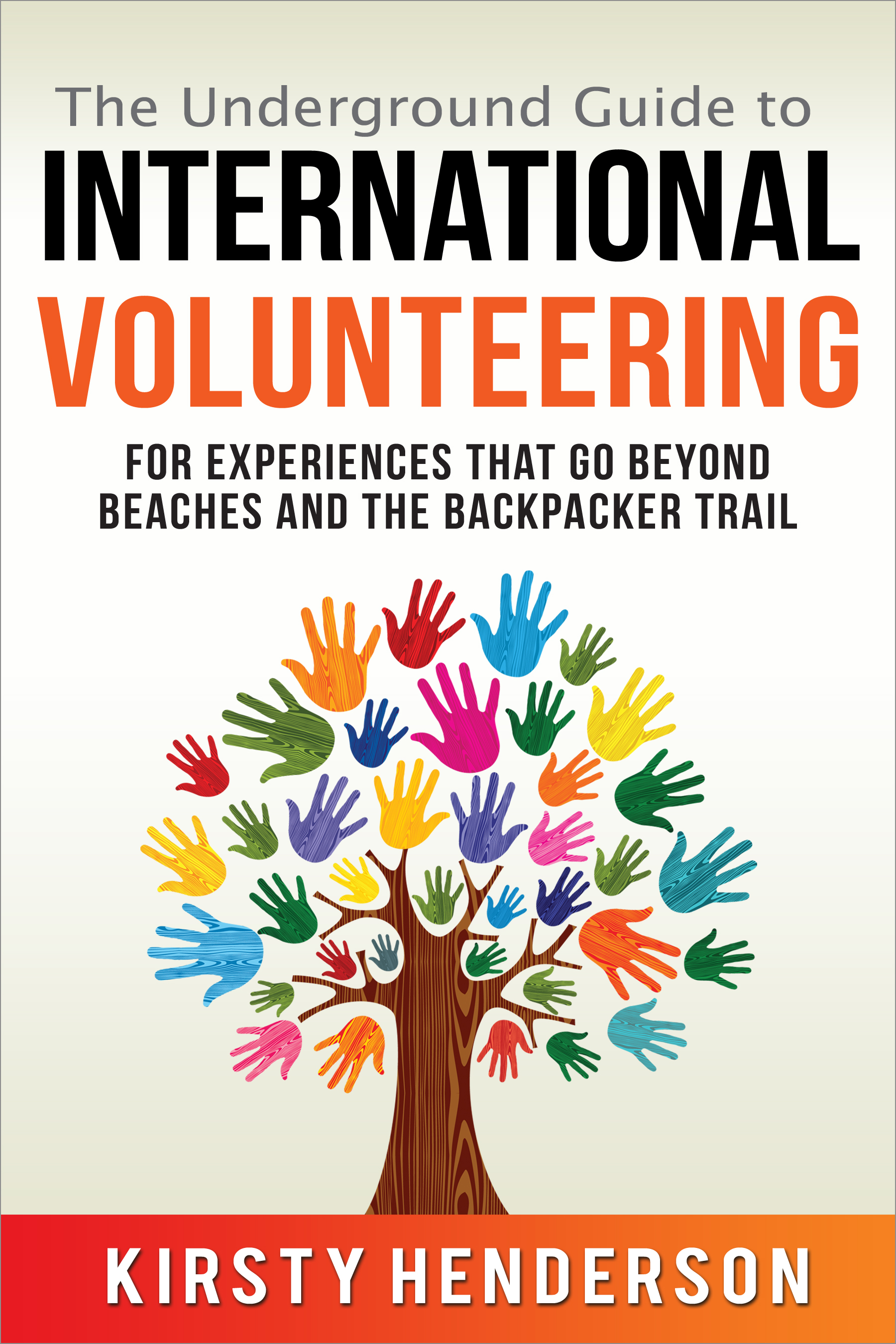 Are you still interested in voluntouring? If you've read this far, I assume you are. The above wasn't meant to scare people from voluntouring (because it CAN be a meaningful and helpful endeavor), but rather to just get people thinking about how they voluntour. I could continue to provide information on other things to think about, such as your ability and availability, safety limitations, legal requirements, and how to find worthy organizations to voluntour with, but all this information could fill a book! Instead, I'll refer you to someone who already wrote a book! I learned a lot from Kirsty Henderson, a worldwide traveler who has volunteered in several countries. She wrote The Underground Guide to International Volunteering: For experiences that go beyond beaches and the backpacker trail. The eight chapters are filled with essential information, such as why you should (or should not!) pay a fee to volunteer, different types of volunteering, and a guide with a country-by-country breakdown of organizations you can help and what they provide their volunteers. I used this to discover a few opportunities that I'm looking forward to being a part of!
I would like to thank Kirsty Henderson for providing me with a digital copy of The Underground Guide to International Volunteering: For experiences that go beyond beaches and the backpacker trail. And no, she didn't pay me to say nice things about it- I just really like her book!